Join us at Disney's Contemporary Resort, February 22-24, for the 8th Annual Advances in Congenital Heart Disease Summit.  Featuring dynamic lectures, interactive panels, and focused workshops, our renowned faculty will provide master-level instruction on heart valve reconstruction, with presentations addressing diagnosis and intervention, imaging, surgical planning, repair techniques, and long-term outcomes.  We'll conclude the Summit with our lively debate and discussion session, focusing this year on Ross vs. Ozaki – Pro/Con and Early repair vs. Watchful waiting in valve disease. 
Throughout the Summit, view abstract posters and engage in networking opportunities, including a Friday night reception at EPCOT®.
Learn more about the course from our course directors: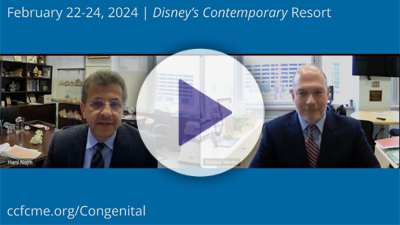 Why Attend?
Cutting-edge, fast-paced presentations on the management of patients with congenital heart disease
Hear experts discuss techniques and standards of care in our dynamic Saturday debate session
Specialized breakout sessions for Echocardiography, Advanced Cardiac Imaging, and Hands-on Surgical Training
Engage with colleagues and faculty during networking breaks, lunches, and the Friday night social and fireworks at EPCOT's France Pavilion
Earn AMA PRA Category 1 Credits™, American Board of Internal Medicine, American Board of Pediatrics, and American Board of Surgery MOC Points, and AMBS Lifelong Learning CME Activity (Thoracic Surgery).
Participate in our abstract competition
Take advantage of the convenience and experience of staying on property at Disney's Contemporary Resort
Sessions include:
Congenital Heart Valve Challenges and Management:  Setting the Stage
Utilizing Advanced Imaging in Guiding Surgical Decision-making
Critical Aortic Stenosis: Challenges and Innovative Solutions from the Fetus to the Adult        
Common Atrioventricular Valve: Challenges and Innovative Solutions
Aortic and Neo-Aortic Valve Disease:  Challenges and Innovative Solutions for the Older Child and Adult
Mitral Valve: Challenges and Innovative Solutions for the Older Child and Adult
Tricuspid Valve: Challenges and Innovative Solutions for Children and Young Adults
Management of Valvular Heart Disease and the Conduction System
Debate and Discussion
Breakout sessions – Echocardiography, Hands-on Surgical Training, and Advanced Cardiac Imaging
By attending, you will be able to:
Analyze current challenges in the treatment and lifelong management of congenital heart valve disease, and strategies for the long-term management of valvular heart disease. 
Critically appraise advanced imaging techniques to guide surgical decision-making for congenital heart defects. 
Describe interventions and surgical options for the repair of critical aortic stenosis, including the role of SAVR and TAVR and long-term outcomes after aortic valve surgery.   
Identify innovative surgical solutions for common AV valve defects, including single ventricle repair and ventricular switch and critically appraise data and outcomes related to AVV. 
Assess aortic and neo-aortic valve disease in older children and adults, including intervention strategies, best practices and surgical approaches. 
Describe strategies for mitral valve and tricuspid valve repair, including timing of interventions for mitral and tricuspid valve disease. 
Who Should Attend?

The Summit is targeted to cardiothoracic surgeons, pediatric cardiologists, pediatricians, anesthesiologists, critical care physicians, and other health care professionals interested in congenital heart disease.